3
Strategic Foresight as a Service
Our complete foresight process management for limited personnel and resources.
Data is the backbone of every Trend Management process
Strategic Foresight is most efficient when it is maintained over a long period of time. For limited personnel and human resources, we offer a complete Foresight process management service. We enrich your team through our experts & data intelligence.
This includes
Continuous scanning of information & scouting for Trends, topics and Indicators

Strategy development

Monthly trend reports

Scenario building

Monitoring and updating of topics

General support for foresight related questions
Stories from 2050
Case Study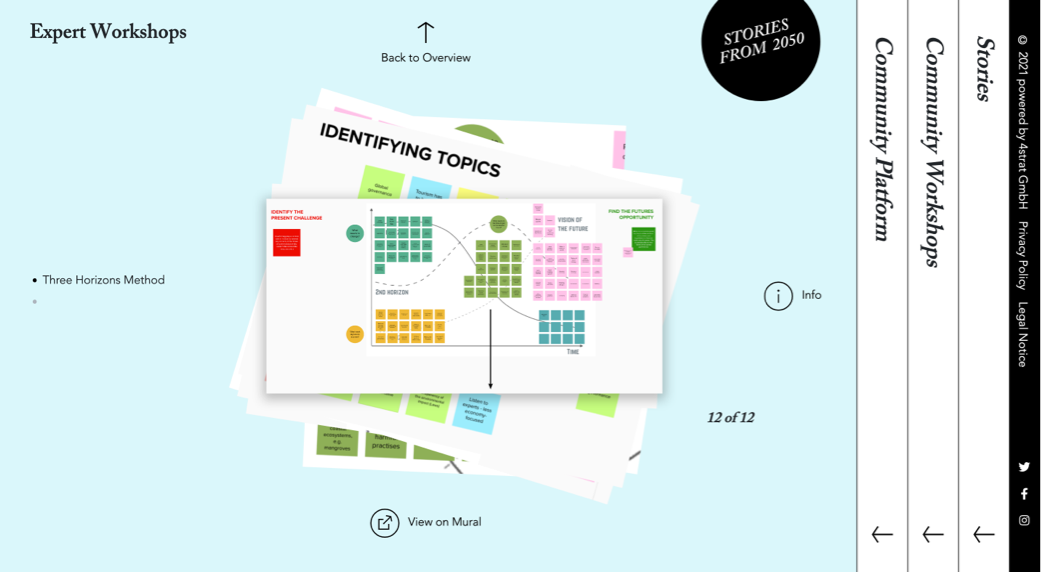 Starting point
Scenarios are becoming more relevant to strategic planning to explore a variety of future pathways and connect them with existing insights and weak signals. However, the process is often biased by current assumptions, attitudes, and knowledge gaps, which can lead to unwanted lock-in effects and narrow-minded views of possible future developments. New creative and interdisciplinary methods such as story writing or reflective future thinking are used to continuously question existing beliefs and explore new ways beyond linear thinking. ​
Result and Value
Methods such as story writing strengthen reflective skills and enable the identification of strategic weaknesses early.
Our approach
Phase 1: Define Future-Rooms
Challenge existing assumptions, outcomes, and scenarios focused on a topic, among others, that could provide a new foundation for future communication and participative activities.
Conduct horizon scanning beyond existing resources to identify wildcards and breakthrough factors and events.
Using social media analysis for data mining.
Phase 2: Define Storylines
Using input from the initial research to generate the scope for each Futures Room.
Involving expert and non-expert communities (such as science fiction writers, youth and sustainability networks) in researching various future projections/signposts and storylines.
Involving professional writers to complete the stories.
Phase 3: Write stories and create futures map
Creating multiple stories that encourage reflection on the topic.
Create an interactive (online) Futures Map that includes all workshop outcomes leading to the final stories, as well as the corresponding pathways leading to each story.
Making the Futures Map and stories available to the public.
Interested in exploring scenarios with us?
We are looking forward to hearing from you and discussing ideas.
What our clients say
Inter IKEA, Product Owner ICMI
Collette Logan
"4strat masterfully facilitated a futures workshop on a complex topic for our organization. 4strat expertly guided a diverse group of co-workers with different perspectives, through a well-structured group futures-thinking workshop. The result was impactful! Not only did we achieve what we set out to achieve, which was to bring an outside-in perspective into our business decisions and plannings but also came away from the workshop more aware when concepting business decisions and strategies that they should stand the test of time. We hope to be able to collaborate with 4strat again on more initiatives."
Director and Partner at Strategy&
Dr. Nils Förster and Dr. Jan Wille
"Together with 4strat, we developed a user-friendly website with interactive dashboards that enable our customers to gain a new perspective on the technology-driven opportunities and challenges in the A&D industry. FSC helped us automate a variety of data sources, filter relevant technologies, and engage our experts in evaluating them. The 4strat team not only supported us in the methodological implementation, but also involved other experts from the 4strat network."
Security Policy at the BMLV
Department
"The FSC is an integral part of the BMLV's strategic foresight and also enables the connection of external knowledge carriers through its collaborative working method. The decision-making processes structured in the FSC are thereby substantially supported."

R&D at SOS Kinderdorf
Thomas Buchner
"The Foresight Strategy Cockpit is a very practical tool for collecting expert assessments. The competent and extremely fast support is also worthy of special mention!"