4
Data Analysis & Trends
Data is the backbone of every Trend Management process
Data is the backbone of every Trend Management process
Our team of Trend Scouts and Analysts continually scan the environment for upcoming signals and change drivers. We offer a constantly updated database of over 180 Trends, structured by the STEEP framework. Backed up by more than 170 Indicators with over 3000 datasets and a powerful Media Analysis tool to monitor country- or topic-specific developments in real-time.
Foresight Dashboard Case Study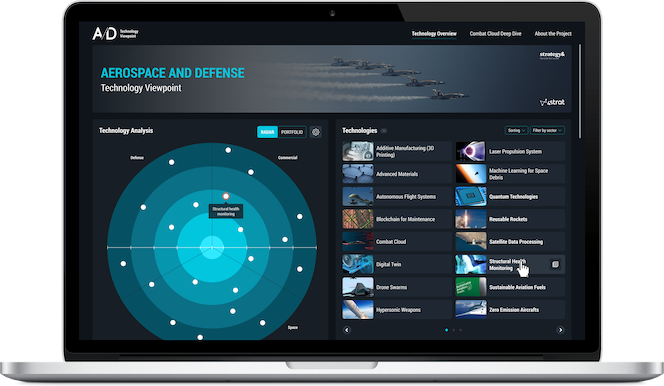 Starting point
Foresight outputs such as scenarios often lack stakeholder engagement and a missing connection to data insights, which hamper their embedding in strategic decision making. On the other side, the often static and time-delayed nature of foresight reports makes it difficult to understand complex, uncertain, ambiguous, and volatile developments as they unfold.
Result and Value
The dashboard provides dynamic and interactive visualisations of foresight results in real-time. With that, a higher stakeholder engagement can be achieved by making all important information available in one place.
Our approach
With the Foresight Strategy Cockpit interactive dashboards can be created and embedded on an external website to explore foresight results more interactively and visually engaging. As a starting point, 4strat's own trend and signal database offers the first step to enrich existing knowledge about the future with deeper insights. Based on expert ratings, trends can be rated and instantly visualised on the radar or portfolio.
To track changes over time, a media monitoring is connected to each trend to watch its development in real-time based on articles and blogs, but also to find new signals that might be relevant in the future. The dashboard can be used for enhanced stakeholder engagement with future topics or as an alternative to trend reports. It can be expanded with additional features such as comments, scenarios, strategy maps etc. The dashboard is also highly customisable to align it with an organisation's unique colours and logos.​
Interested in building Engaging Dashboards with us?
We are looking forward to hearing from you and discussing ideas.
What our clients say
Inter IKEA, Product Owner ICMI
Collette Logan
"4strat masterfully facilitated a futures workshop on a complex topic for our organization. 4strat expertly guided a diverse group of co-workers with different perspectives, through a well-structured group futures-thinking workshop. The result was impactful! Not only did we achieve what we set out to achieve, which was to bring an outside-in perspective into our business decisions and plannings but also came away from the workshop more aware when concepting business decisions and strategies that they should stand the test of time. We hope to be able to collaborate with 4strat again on more initiatives."
Director and Partner at Strategy&
Dr. Nils Förster and Dr. Jan Wille
"Together with 4strat, we developed a user-friendly website with interactive dashboards that enable our customers to gain a new perspective on the technology-driven opportunities and challenges in the A&D industry. FSC helped us automate a variety of data sources, filter relevant technologies, and engage our experts in evaluating them. The 4strat team not only supported us in the methodological implementation, but also involved other experts from the 4strat network."
Security Policy at the BMLV
Department
"The FSC is an integral part of the BMLV's strategic foresight and also enables the connection of external knowledge carriers through its collaborative working method. The decision-making processes structured in the FSC are thereby substantially supported."

R&D at SOS Kinderdorf
Thomas Buchner
"The Foresight Strategy Cockpit is a very practical tool for collecting expert assessments. The competent and extremely fast support is also worthy of special mention!"

What Else We Offer
1
Foresight
strategy
cockpit
The holistic all-in-one solution to manage foresight processes from trends to scenarios all the way to finalized strategies.
2
Strategic
Foresight
Training
We train and empower organizations in their own Foresight skills and give you a set of tools and methods which enable you to develop a new mindset.
3
Strategic
Foresight
as a service
Our complete foresight process management for limited personnel and resources.