Real-Time Delphi
Rate, discuss and explore feedback in real-time: Our web-based Real-Time Delphi (RTD) is an established method from Future Studies which combines a communicative approach using statistical data. With the power of real-time computation and group response delivery, RTD is offering new ways to create exploratory elements on for inferential analysis.
Our real-time delphi process
Define research design

Formulate questions, create evaluation criteria (optional).

Choose experts

Invite experts to the RTD according to the research design.

Perform the rtd

Start RTD and query the findings and assessments of participants.

Remind participants

Remind participants of (multiple) participation and motivate them.

Evaluation

Visualise, evaluate and share results with relevant stakeholders.
What is real-time delphi?
The world today is more unpredictable and complex than ever before. Changes in politics, economics, technology, society and the environment are closely intertwined. Understanding and anticipating them requires interdisciplinary and diverse expertise. To get a holistic picture of future developments, it is therefore useful to consult a large number of experts from different fields. With the help of the Real-Time Delphi method it is possible to do this quickly and easily. Furthermore, the method can be used to collect ideas and creative solutions.
Foresight Strategy Cockpit Real-Time Delphi
Our Real-Time Delphi has all the classic question types of social research, from free text questions to matrix questions to drag & drop ranking. Trends, risks, ideas, actors or technologies from existing foresight processes can also be evaluated, commented on and discussed concerning individual evaluation criteria. If required, participants can make a self-assessment of their own expertise for each question. This helps the subsequent evaluation and derivation of strategic measures. All information provided by participants remains anonymous.
Configure questionnaires easily
With the Foresight Strategy Cockpit (FSC), the time required for setting up and evaluating extensive expert surveys can be reduced to a minimum. Participants can simply be imported into the system and invited and reminded by e-mail. The questionnaire can be designed dynamically based on rules to ask specific questions in a targeted manner.

Our RTD not only supports the evaluation of entities, but also offers participants the opportunity to write, evaluate and comment on arguments (Dynamic Argumentative Delphi).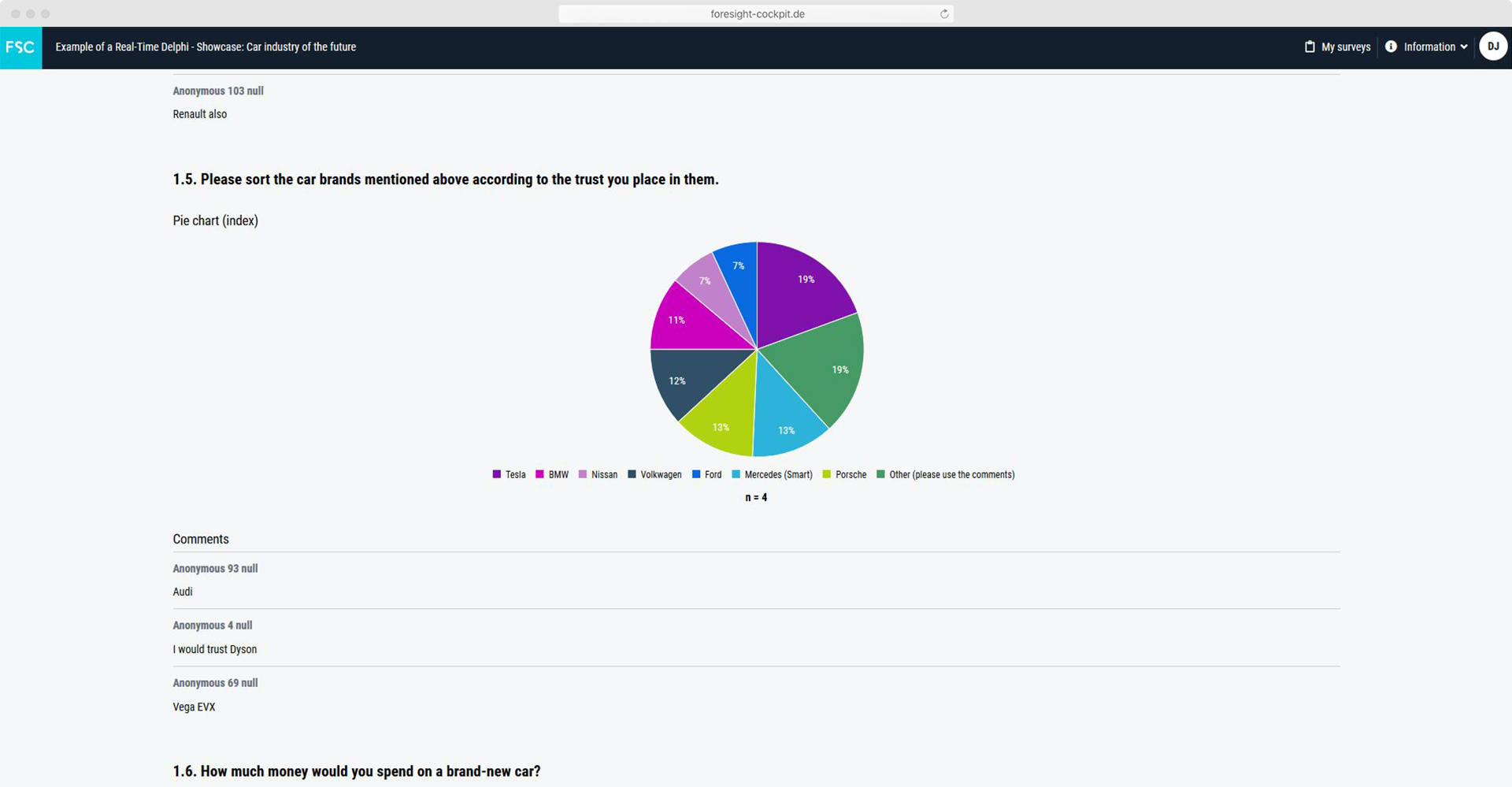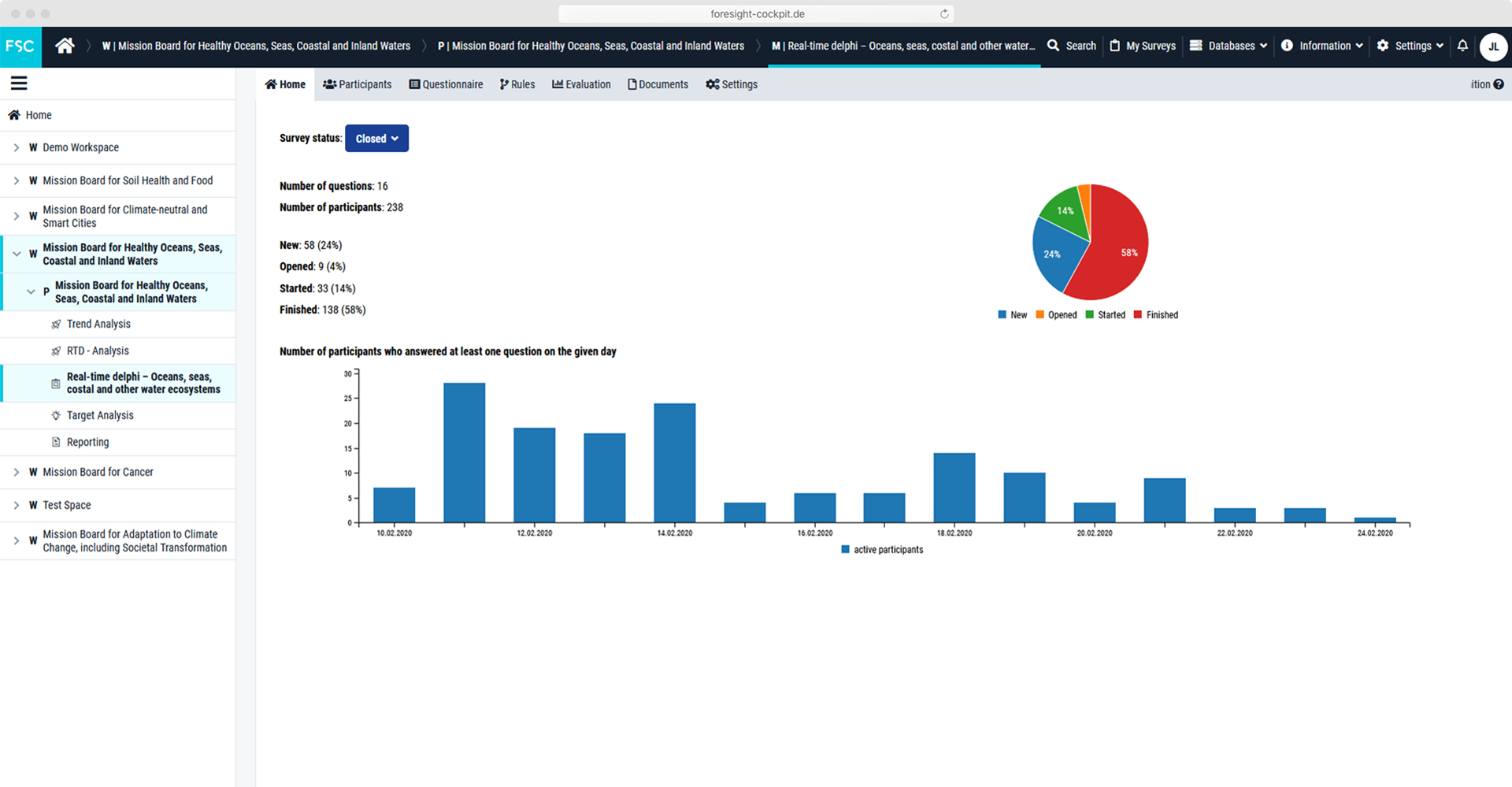 Evaluation in real-time
The progress of a survey can be monitored in real-time at the FSC while it is still being carried out. A variety of meaningful visualisations are available for the interpretation of the results. A complete report can be generated and exported with a few clicks. For demanding users, an export in tabular form is available for further statistical processing.
Fact Sheet
All-in-one Foresight platform for unlimited users

Modular and web-based system

Combines qualitative and quantitative data

Various data visualizations

Real-time data and expert integration

Online team collaboration

State-of-the-art technology and security standards

Supports teams of futurists and scouts for future knowledge aggregation
Overview of all Methods
You can download a complete list of our methods here.
Reduce the amount of coordination and programs needed to manage trends and signals to a single software solution. Through a holistic aggregation of internal information, external expert knowledge and data-driven insights, every unit can collectively contribute to the assessment of relevant trends and their developments.
Summary
Customised questions and the opportunity to exchange opinions serve as the basis for the collection of anonymised data. The questionnaires can be designed dynamically to capture special and complex issues as accurately as possible. By evaluating the survey in real-time and enabling visualisation of the data, findings are readily available and can be processed further. Surveys targeting future-related topics provide information on the prospects for the future, uncover existing problems and provide orientation with regard to anticipated developments, both considering risks and opportunities.
With the help of future-oriented technology and the use of efficient tools, companies can stay in line with the times. The survey brings together a range of expert opinions and provides a snapshot of current developments and events. Consequently, several scenarios can be run through based on the collected data in order to take action to shape the future in a desired way. In all cases, the objective is to use the survey to develop and manage a scenario that is as plausible as possible.
This enables companies to react quickly to new trends. Most importantly, this can provide significant advantages over other companies in terms of their competitive edge.
---
Speak to our experts to learn more about how real-time delphi can be applied to your context.
Frequently asked questions and answers
The Real-Time Delphi (RTD) is a refinement of the previously much-used expert survey. It is designed to dynamically capture and analyse the fast-paced changes in society. The data collected by the questionnaires can be evaluated in real-time and visualised in compelling reports. The topics for the surveys can be chosen as required.
Using this foresight method, companies receive direct and real-time feedback from their respondents. Through Real-Time Delphis, companies obtain up-to-date insights on trends and developments. In the tailored questionnaires, specific emphasis can be put on topics and any trends that are deemed relevant for the company. Beyond this, an immediate evaluation makes it possible to respond in a specific and customer-oriented way. As a result, a competitive advantage can be created that is sustainable and highly promising.
The Real-Time Delphi is a method that is well suited to the foresight practice as, rather than overnight, changes tend to occur in the form of gradual processes. In this way, trends can be identified at an early stage and the insights obtained can help to accurately evaluate upcoming changes. Collating the different opinions and views of the participants effectively conveys the thinking of the wider audience. With the help of this foresight method, companies have the opportunity to act in time before the competition does. Interim results serve as a basis for developing ongoing strategies. These can be expanded and further developed through subsequent surveys. As a result, the problem of relying on promising future developments and the resulting risk of pursuing the wrong strategy is kept to a minimum.