Why strategic foresight?
Strategic foresight* reduces complexity and uncertainty in order to understand and shape the future of organizations. We see strategic foresight as the basis for change & transformation and an enabler for innovation and entrepreneurship. Foresight stands for a mindset of forward thinking by challenging the status quo and including, rather than competing with, different approaches.
The challenge
How to make robust decisions for the future in times of data overflow and volatile and highly dynamic environments?
The solution
We provide field-tested tools and methods for agile strategizing based on relevant data and real-time insights. This is achieved through flexible and transparent team collaboration with state-of-the-art software.
* "Strategic foresight is a structured and systematic way of using ideas about the future to anticipate and better prepare for change. It is about exploring different plausible futures that could arise, and the opportunities and challenges they could present. We then use those ideas to make better decisions and act now." (oecd.org 2020)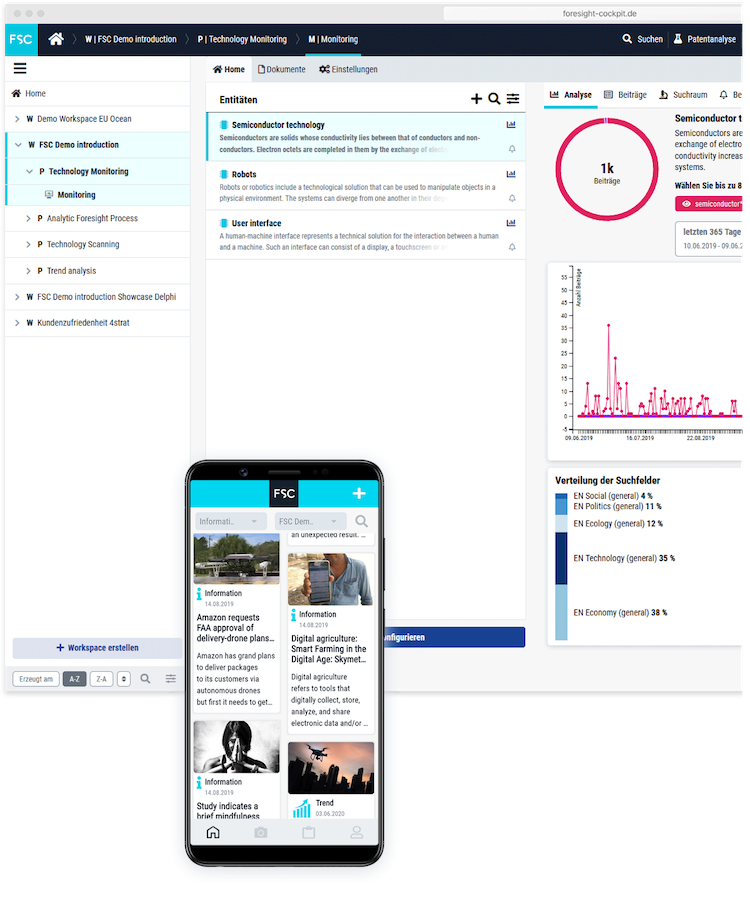 Fact Sheet
All-in-one Foresight platform for unlimited users

Modular and web-based system

Combines qualitative and quantitative data

Various data visualizations

Real-time data and expert integration

Online team collaboration

State-of-the-art technology and security standards

Supports teams of futurists and scouts for future knowledge aggregation
Selection of Case Studies
What our clients say
Inter IKEA, Product Owner ICMI
Collette Logan
"4strat masterfully facilitated a futures workshop on a complex topic for our organization. 4strat expertly guided a diverse group of co-workers with different perspectives, through a well-structured group futures-thinking workshop. The result was impactful! Not only did we achieve what we set out to achieve, which was to bring an outside-in perspective into our business decisions and plannings but also came away from the workshop more aware when concepting business decisions and strategies that they should stand the test of time. We hope to be able to collaborate with 4strat again on more initiatives."
Director and Partner at Strategy&
Dr. Nils Förster and Dr. Jan Wille
"Together with 4strat, we developed a user-friendly website with interactive dashboards that enable our customers to gain a new perspective on the technology-driven opportunities and challenges in the A&D industry. FSC helped us automate a variety of data sources, filter relevant technologies, and engage our experts in evaluating them. The 4strat team not only supported us in the methodological implementation, but also involved other experts from the 4strat network."
Security Policy at the BMLV
Department
"The FSC is an integral part of the BMLV's strategic foresight and also enables the connection of external knowledge carriers through its collaborative working method. The decision-making processes structured in the FSC are thereby substantially supported."

R&D at SOS Kinderdorf
Thomas Buchner
"The Foresight Strategy Cockpit is a very practical tool for collecting expert assessments. The competent and extremely fast support is also worthy of special mention!"