Innovation Management
Ideas are innovative consequences classified within a certain context, such as time, emphasizing their respective advantages and disadvantages. They are also the root of innovation. Through collaboratively collecting and evaluating ideas you may identify new products, business models and operational improvements.
Our Innovation management process
Define priorities

Define your priorities and understand your environment.

Collect ideas

Collect ideas collaboratively and with different methods.

Concretise ideas

Make the ideas of a community available and improve them together.

Rate ideas

Rate and assess ideas inside or outside your organization.

Evaluate results

Evaluate the ideas according to your decision criteria.

Put ideas into practice

Create concepts and transform the ideas into a roadmap.

Monitoring

Follow the implementation of your ideas in the roadmap and adjust it at any time.
What is Innovation management?
Ideas are the root of innovation: By collaboratively collecting and evaluating ideas we can identify new products, business models or operational improvements. Diversity of opinions, views and knowledge is the key to developing innovative solutions. In the Foresight Strategy Cockpit users can collaboratively discuss and rate ideas and other insights. New ideas can be easily created, edited and updated and if necessary, external knowledge can be included through survey methods.
The Foresight Strategy Cockpit Innovation management module
With its Innovation Management module, the Foresight Strategy Cockpit (FSC) helps your company to organize new and existing ideas, analyze and evaluate them and put them into practice. Take a joint look at all the decisive factors that determine the realization and chances of success of your entrepreneurial ideas. Our customizable tool enables users to freely adjust evaluation criteria, user rights and role management and to individualize for different projects. Therefore, you can create individual and different evaluation criteria for different idea projects and can decide which employees have access to which project.
Collaborative idea analysis
Evaluate ideas in your team by using customizable evaluation criteria. Invite external experts and let them participate in the process with our Survey method. Observe the whole process in real-time. The System automatically processes individual ratings into consolidated and meaningful data.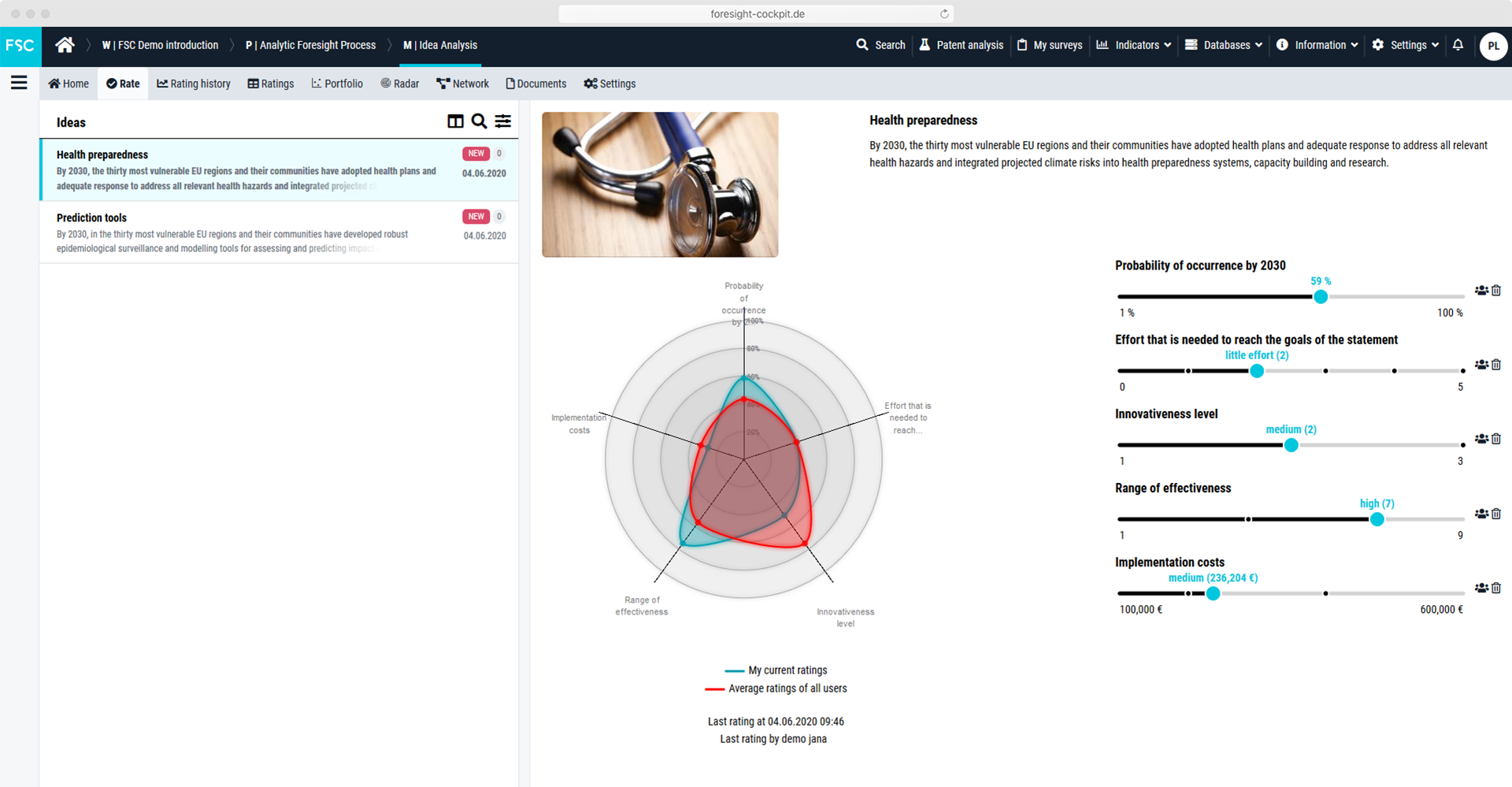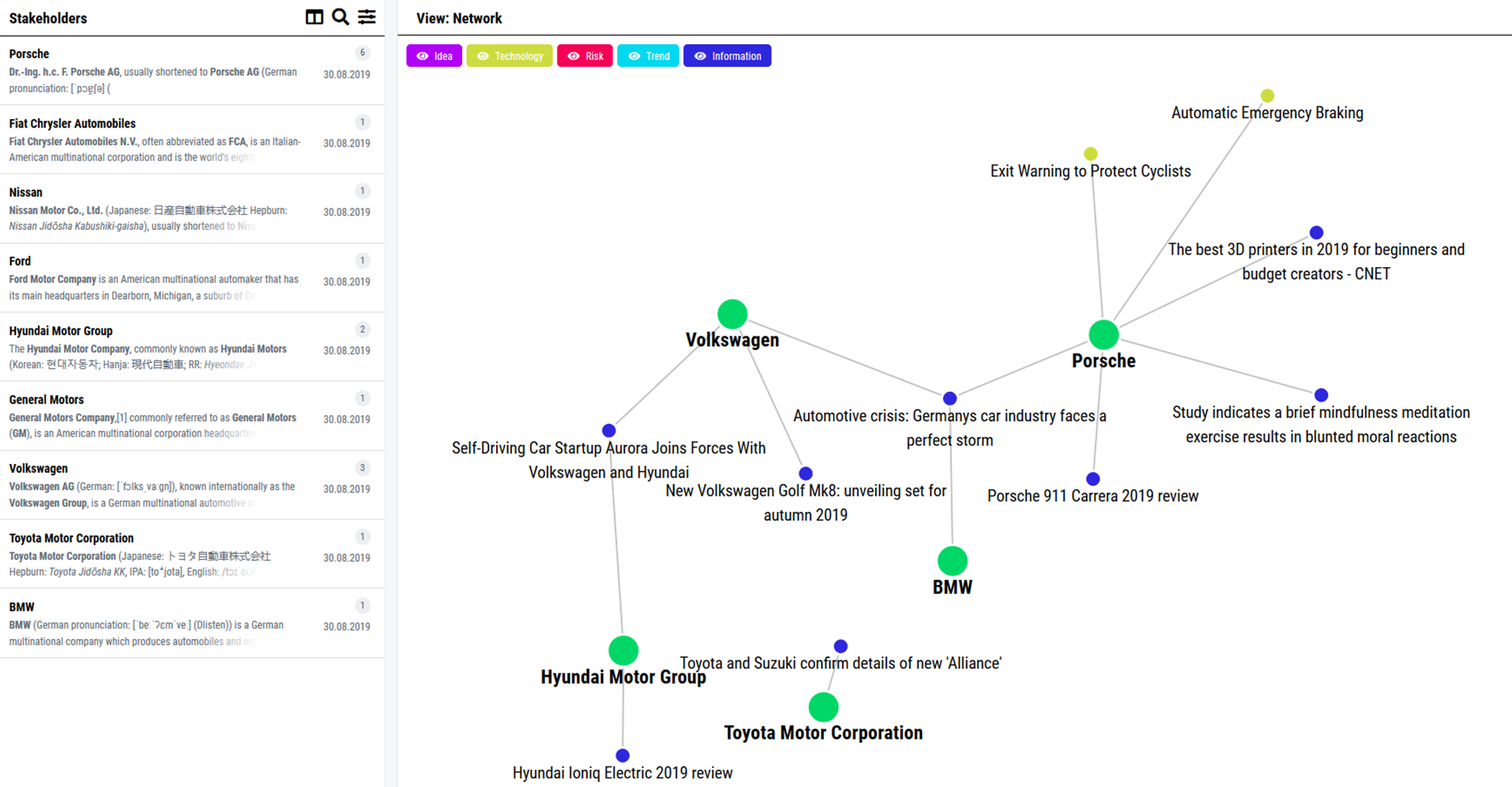 Data-driven scouting & monitoring
With the visualization options of the FSC it is easy to interpret results and decide transparently which ideas should prevail over others. On this basis, corresponding implementation strategies can be formulated. All insights created can finally be exported as ready-to-use reports (as .pdf or .docx) just by the click of a button.
Fact Sheet
All-in-one Foresight platform for unlimited users

Modular and web-based system

Combines qualitative and quantitative data

Various data visualizations

Real-time data and expert integration

Online team collaboration

State-of-the-art technology and security standards

Supports teams of futurists and scouts for future knowledge aggregation
Overview of all Methods
You can download a complete list of our methods here.
Reduce the amount of coordination and programs needed to manage trends and signals to a single software solution. Through a holistic aggregation of internal information, external expert knowledge and data-driven insights, every unit can collectively contribute to the assessment of relevant trends and their developments.
Summary
Innovation must be developed
Every company needs to be innovative - in order to continue on its own path to success as steadily as possible. Every company needs innovation for its own processes and strategies - to be prepared for challenges and developments to come. But innovations are not static. All too often, they are difficult to grasp, let alone reliably predicted. Innovation management implemented in the company's processes along with internal and external research and development comes into play here.
Innovations are influenced by ongoing developments, future events, and their impacts - precisely here lies the problem: How to respond efficiently and successfully today to the potential situations of tomorrow? Is what is considered innovative today still innovative tomorrow? A company's ability to innovate can only emerge from having the workings of a capable innovation management system in place. A culture of innovation must be established at all levels because innovation management forms a core activity in the company, especially in the medium to long term.
Where does innovation begin and how do innovations become the tools of a company's own development? How are they formed and transferred into systematic innovation processes - in order to be continuously implemented at the right time and ultimately be a guarantee for success?
From Idea to innovation
Every innovation is always based on a new idea, but not every idea is a good idea. This is where innovation management comes in. Irrespective of whether it is a matter of product development or the restructuring of internal processes - new ideas can be collected, processed, discussed and finally evaluated in the Foresight Strategy Cockpit.
Systematic organisation of innovation processes
The Foresight Strategy Cockpit supports companies in organising, analysing, evaluating and ultimately implementing the most promising innovations. For this purpose, different evaluation criteria, user rights and roles can be defined for various projects, making innovation management more structured and methodical.
An idea can be evaluated on the basis of several criteria, for instance time or disruption potential in relation to established business models. These may crumble and are eventually replaced in the wake of innovative advancements. Just like trends, ideas can also be analysed. The criteria for these can be set up easily by an administrator. Results of a group evaluation are also included in the analysis. External stakeholders can be included in the innovation process through surveys.
From research to the innovation process
An innovation process usually begins with the definition of main focus areas. Ideas for them are collected collaboratively using various methods. In a next step, these ideas are introduced to a community and on the basis of the feedback revised and improved.
The evaluation within and outside one's own organisation is also an important part of the innovation process. This systematic internal and external evaluation is followed by an analysis against the organisation's own decision-making criteria. This produces new concepts and a clear roadmap. The final step of the process is that of implementation, which can also be monitored with the help of tools to make adjustments or take other appropriate measures if and where necessary.
Making innovative potential and knowledge applicable
Our Foresight Strategy Cockpit makes this innovation process visible and easier to understand, which in turn facilitates innovation management. Results are visualised in real-time and can thus be interpreted much more effectively, making the entire decision-making process more transparent and allowing the optimal measures in the innovation process to be developed on an ongoing basis. The findings are then available as ready-made reports at the touch of a button.
---
Speak to our experts to learn more about how innovation management can be applied to your context.
Frequently asked questions and answers
An innovation is the introduction of something new. In the entrepreneurial context, this means above all the introduction of new processes, ideas, product development or even the design and establishment of a company network. There is more to innovation management than just a good idea - as the word suggests, management is a central factor when it comes to innovation. Innovation processes must not only be initiated, but also be monitored, evaluated and adapted. For all these activities, there are now sophisticated technologies that make everyday work in managing innovation significantly easier. Innovation management is one of the most demanding management tasks but it also offers the greatest potential - for a company can only grow if there is constant improvement. Innovation management is therefore primarily about steering the entire innovation process.
An innovation begins with the recognition of new trends and technologies as well by exploring new sources of ideas. These can be found in suggestions from customers, in the analysis of complaints, in new standards, in visits to trade fairs or in comments from suppliers and employees. On the basis of these findings, the idea generation phase begins. Here it makes sense to consolidate the information and make it accessible to all people involved. In this way, the ideas can be easily analysed, evaluated and prioritised, which significantly simplifies the innovation management process.

In the next phase, customer and expert opinions are obtained, an analysis of the market is carried out, information on suppliers and possible cooperation partners is collected and sometimes a first prototype is already implemented. Then it's onto the final development of a new product, the implementation of new strategies or the systematic introduction of new processes into the company's operations. Each of these stages in the innovation process has different requirements to ensure optimal fulfilment of the respective tasks. All innovation processes have one thing in common - they can not only be streamlined with the use of digital tools, but most importantly, they can be improved.
The importance of innovation management lies in the fact that it creates the necessary framework conditions for new and, above all, goal-oriented ideas to emerge in the first place. Management should establish a corporate culture that stimulates the innovation process and sees it as a core activity. Good innovation management requires a corporate culture in which both employees and management are open and receptive to innovations and new ideas.

Tools such as the Foresight Strategy Cockpit help to improve innovation management and therefore also the innovation process within an organisation. Through a modular and web-based system, it is easy to involve users in the development process. Appealing visualisation and a real-time replay of data, but also expert opinions, help to develop even better innovations. The appreciation of idea generators is a point that is often overlooked in innovation management. Such appreciation does not have to be in monetary terms. Instead, it is more about accepting suggestions and including them in the innovation process. Through the use of state-of-the-art innovation technologies, their inclusion can be ensured in a straightforward manner.