1
Foresight Strategy Cockpit
The holistic all-in-one solution to manage foresight processes from trends to scenarios all the way to finalized strategies.
Holistic Foresight
The Foresight Strategy Cockpit is a web-based tool that allows companies and organisations to intelligently manage a holistic foresight process ranging from trends, risks and scenarios up to finalised strategies. Situational landscapes can be created based on real-time data and monitored easily.
Central aggregation of knowledge
Instead of working in silos, data and insights are structured and aggregated centrally by the FSC. Insights can be enriched with external knowhow, through survey-methods and quality content from our NEXUS database or by connecting APIs.
Wide range of Foresight Methods
The FSC empowers users to employ over 40 established methods and frameworks from futures studies to develop a systematic and professional approach to tackle your future.
Trend Communities Case Study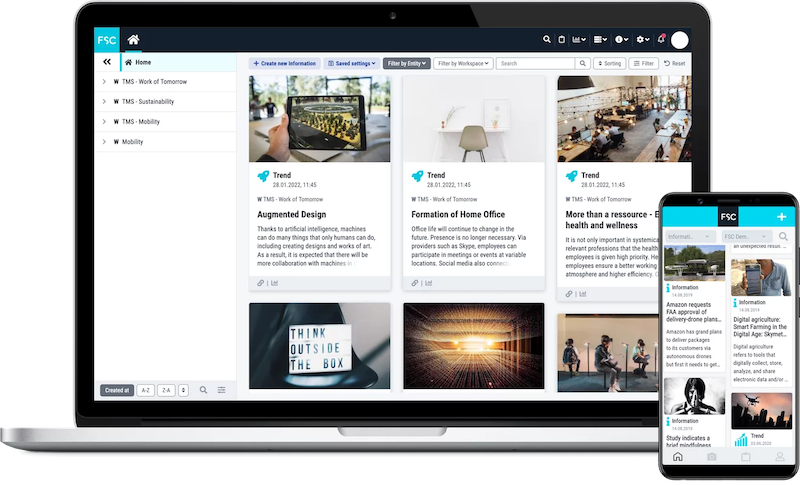 Starting point
As Foresight is slowly becoming an integral part of companies' DNA, processes are shifting from a singular foresight unit to an open foresight culture. New challenges emerge as crowdsourced (bottom-up) approaches require new engagement points and digital infrastructure for seamless sharing of real-time information and active participation of employees company-wide.
Result and Value
Establishing foresight communities to get future relevant information faster across units and develop future skills necessary to set insights into action.
Our approach
4strat has been supporting companies in setting up a foresight knowledge management system together with crowd-based scouting of trends. For this purpose, the Foresight Strategy Cockpit, together with the FSC Add-On, is implemented and embedded into the internal company network structure.
The implementation will be accompanied by regular training sessions, which will take place both physically and via a digital learning platform. In addition, a trend community with internal employees is being established and strategically supported. This is based on the definition of various users and a data-driven methodology that includes the creation of detailed workflows, training and learning plans for employees' competence development.
The results enable strategic management to make more robust decisions in the future. Common visualisations, such as the trend radar are also developed and visualised for this purpose. ​
Interested in building Trend Communities with us?
We are looking forward to hearing from you and discussing ideas.
What our clients say
Inter IKEA, Product Owner ICMI
Collette Logan
"4strat masterfully facilitated a futures workshop on a complex topic for our organization. 4strat expertly guided a diverse group of co-workers with different perspectives, through a well-structured group futures-thinking workshop. The result was impactful! Not only did we achieve what we set out to achieve, which was to bring an outside-in perspective into our business decisions and plannings but also came away from the workshop more aware when concepting business decisions and strategies that they should stand the test of time. We hope to be able to collaborate with 4strat again on more initiatives."
Director and Partner at Strategy&
Dr. Nils Förster and Dr. Jan Wille
"Together with 4strat, we developed a user-friendly website with interactive dashboards that enable our customers to gain a new perspective on the technology-driven opportunities and challenges in the A&D industry. FSC helped us automate a variety of data sources, filter relevant technologies, and engage our experts in evaluating them. The 4strat team not only supported us in the methodological implementation, but also involved other experts from the 4strat network."
Security Policy at the BMLV
Department
"The FSC is an integral part of the BMLV's strategic foresight and also enables the connection of external knowledge carriers through its collaborative working method. The decision-making processes structured in the FSC are thereby substantially supported."

R&D at SOS Kinderdorf
Thomas Buchner
"The Foresight Strategy Cockpit is a very practical tool for collecting expert assessments. The competent and extremely fast support is also worthy of special mention!"

Fact Sheet
All-in-one Foresight platform for unlimited users

Modular and web-based system

Combines qualitative and quantitative data

Various data visualizations

Real-time data and expert integration

Online team collaboration

State-of-the-art technology and security standards

Supports teams of futurists and scouts for future knowledge aggregation
Overview of all Methods
You can download a complete list of our methods here.
Reduce the amount of coordination and programs needed to manage trends and signals to a single software solution. Through a holistic aggregation of internal information, external expert knowledge and data-driven insights, every unit can collectively contribute to the assessment of relevant trends and their developments.
Benefits
Together with our clients we develop individual strategy processes for your business and establish foresight within your organization.
Over 40 different implemented methods
Powerful extensions (App & Browser)
Cloud or in-house solutions available
Add modules as needed to extend your individual strategic foresight process
Add-on
The Add-On for Mozilla Firefox and Google Chrome allows an efficient scanning of news articles and blog posts through Environmental Scanning. Metadata of webpages, URLs and titles are automatically captured by the Add-On. Scouted information can be directly linked to trends, risk or ideas.
What Else We Offer
2
Strategic
Foresight
Training
We train and empower organizations in their own Foresight skills and give you a set of tools and methods which enable you to develop a new mindset.
3
Strategic
Foresight
as a service
Our complete foresight process management for limited personnel and resources.
Get access to our trend database and insights – constantly updated and extended.