Innovation Management
Ideas are innovative consequences classified within a certain context, such as time, emphasizing their respective advantages and disadvantages. They are also the root of innovation. Through collaboratively collecting and evaluating ideas you may identify new products, business models and operational improvements.
Our Innovation management process
Define priorities

Define your priorities and understand your environment.

Collect ideas

Collect ideas collaboratively and with different methods.

Concretise ideas

Make the ideas of a community available and improve them together.

Rate ideas

Rate and assess ideas inside or outside your organization.

Evaluate results

Evaluate the ideas according to your decision criteria.

Put ideas into practice

Create concepts and transform the ideas into a roadmap.

Monitoring

Follow the implementation of your ideas in the roadmap and adjust it at any time.
What is Innovation management?
Ideas are the root of innovation: By collaboratively collecting and evaluating ideas we can identify new products, business models or operational improvements. Diversity of opinions, views and knowledge is the key to developing innovative solutions. In the Foresight Strategy Cockpit users can collaboratively discuss and rate ideas and other insights. New ideas can be easily created, edited and updated and if necessary, external knowledge can be included through survey methods.
The Foresight Strategy Cockpit Innovation management module
With its Innovation Management module, the Foresight Strategy Cockpit (FSC) helps your company to organize new and existing ideas, analyze and evaluate them and put them into practice. Take a joint look at all the decisive factors that determine the realization and chances of success of your entrepreneurial ideas. Our customizable tool enables users to freely adjust evaluation criteria, user rights and role management and to individualize for different projects. Therefore, you can create individual and different evaluation criteria for different idea projects and can decide which employees have access to which project.
Collaborative idea analysis
Evaluate ideas in your team by using customizable evaluation criteria. Invite external experts and let them participate in the process with our Survey method. Observe the whole process in real-time. The System automatically processes individual ratings into consolidated and meaningful data.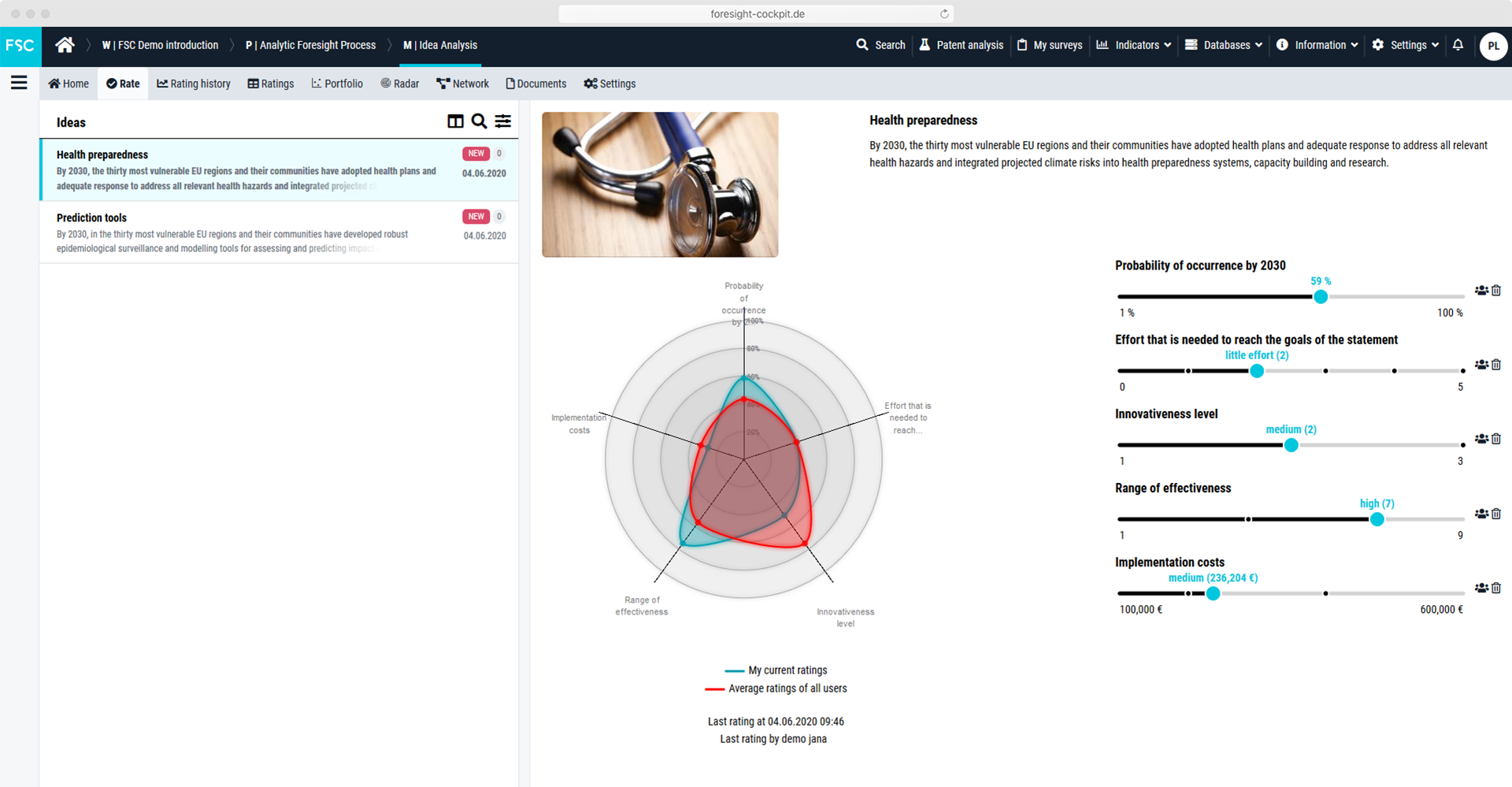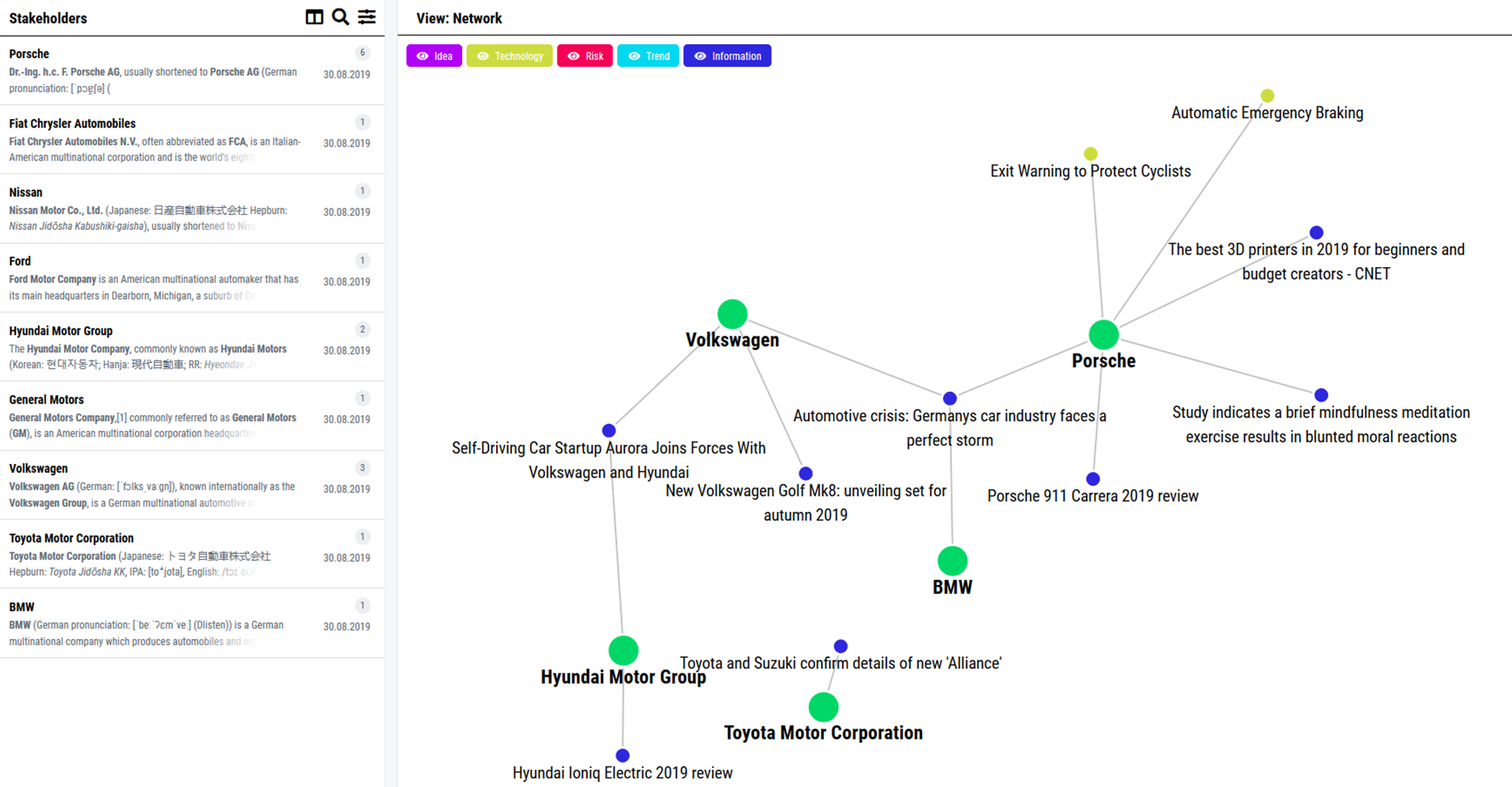 Data-driven scouting & monitoring
With the visualization options of the FSC it is easy to interpret results and decide transparently which ideas should prevail over others. On this basis, corresponding implementation strategies can be formulated. All insights created can finally be exported as ready-to-use reports (as .pdf or .docx) just by the click of a button.
Fact Sheet
All-in-one Foresight platform for unlimited users

Modular and web-based system

Combines qualitative and quantitative data

Various data visualizations

Real-time data and expert integration

Online team collaboration

State-of-the-art technology and security standards

Supports teams of futurists and scouts for future knowledge aggregation
Overview of all Methods
You can download a complete list of our methods here.
Reduce the amount of coordination and programs needed to manage trends and signals to a single software solution. Through a holistic aggregation of internal information, external expert knowledge and data-driven insights, every unit can collectively contribute to the assessment of relevant trends and their developments.