Technology Management
With the help of our Technology management module, organizations can effectively manage their technological fundamentals to generate a competitive advantage.
Identify technology fields
IDENTIFY TECHNOLOGY FIELDS

Determine fields of technology and derive technologies.

Evaluate

Evaluation and assessment of technologies with internal and external experts.

Analyse stakeholder

Conduct market analysis and identify stake holders and start-ups and assign them to technologies.

Design technology roadmap

Design a technology roadmap and link it to resources and markets.

MONITORING

Observe and analyse technological developments and stakeholders/start-ups.

Adapt

Update and adapt the technology roadmap.
What is Technology management?
The world is more unpredictable and complex than ever before, with enormous changes in social, technological, economic, ecological and political areas. Technologies have been one of the focus points in recent years, as they have a massive impact on the everyday life and strategic orientation of companies.​

Development cycles of new technologies are becoming shorter and shorter. To be able to identify and assess future technologies and their effects at an early stage, more than purely technical expertise is required. Rather, socio-cultural factors, market characteristics, political systems and the resonance of users and media must be identified and taken into account.
Foresight Strategy Cockpit Technology management module
The Foresight Strategy Cockpit (FSC) combines the entire technology management process in a web-based software. It enables users to integrate and share their expertise, evaluate developments and create patterns by linking insights. Furthermore, the FSC has an indicator and patent database and access to monitoring for real-time monitoring of technological developments.
COLLABORATIVE TECHNOLOGY MANAGEMENT
With the FSC, the effort to analyse technological developments is reduced to a minimum. Through a holistic combination of qualitative information, external expert knowledge and data-based findings, each unit of an organisation can jointly contribute to the evaluation of relevant technology trends and their developments. At the push of a button, all findings can be exported as finished reports (as .docx or .pdf).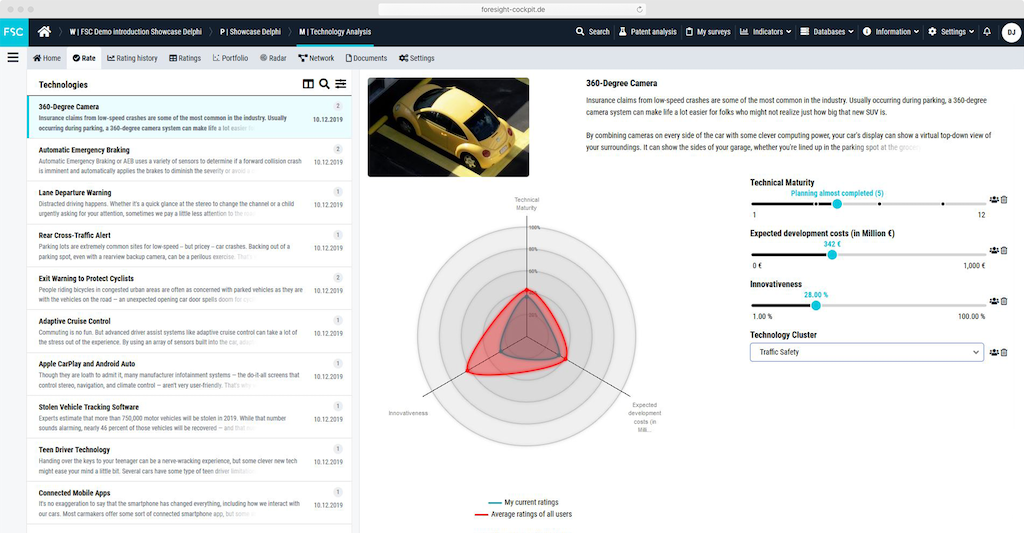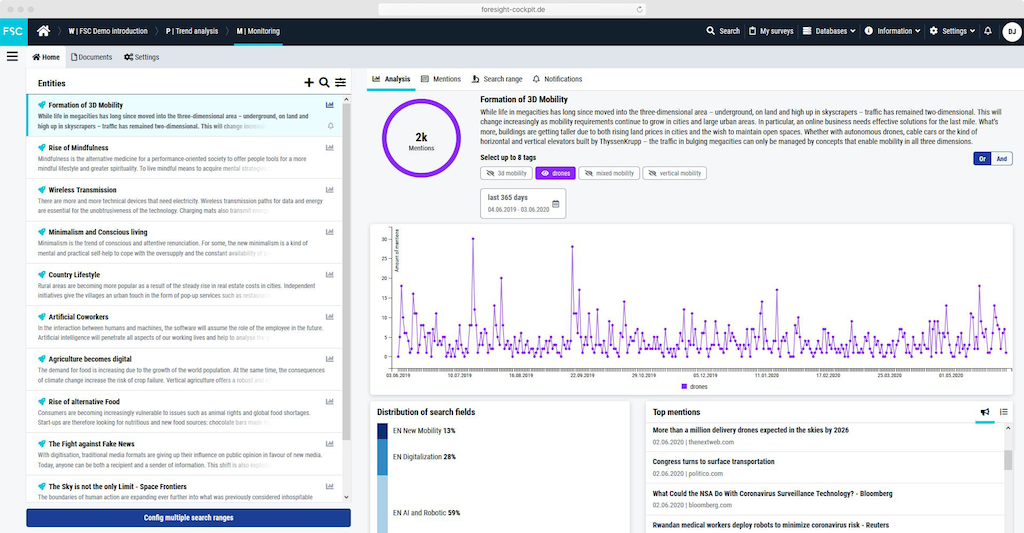 Data-driven scouting & monitoring
In addition to human expertise, data is the foundation for tracking technological developments. For this purpose, the FSC offers access to indicators, patents and monitoring, to be able to observe the development of technologies in real-time at an early stage. All the information obtained can be interlinked and harmonised.
Further features
Develop technology strategies that underpin your organization.

Forecast technological trends to stay one step ahead of the competition.

Map technologies to business and market needs by using our road mapping feature.

Combine all these methods to develop a customized technology portfolio.
Our values in short
Collaborative analysis of technological developments

Access to indicators and patent database

Browser Add-on and App for faster integration of relevant pieces of information

Real-time technology monitoring

Automated report functions for fast communication

Comprehensive support and training by our Foresight experts
Fact Sheet
All-in-one Foresight platform for unlimited users

Modular and web-based system

Combines qualitative and quantitative data

Various data visualizations

Real-time data and expert integration

Online team collaboration

State-of-the-art technology and security standards

Supports teams of futurists and scouts for future knowledge aggregation
Overview of all Methods
You can download a complete list of our methods here.
Reduce the amount of coordination and programs needed to manage trends and signals to a single software solution. Through a holistic aggregation of internal information, external expert knowledge and data-driven insights, every unit can collectively contribute to the assessment of relevant trends and their developments.