Strategy Management
A strategy is a plan that includes a set of actionable measures designed to bring about a desired outcome or mitigate the effects of unfavourable developments in the future. A strategy is selected in order to achieve a long-term goal.
Our strategy management process
Define goals and scenarios

Define your goals with the Goal-Assessment method and develop appropriate scenarios.

Deriving fields of action and options for action

Derive suitable fields of action and their options.

Create strategies

Create and discuss different strategies in a team.

Evaluate the strategies

Collaboratively evaluate the possible strategies against the objectives and scenarios at different time intervals.

Decide

Use different methods to decide which strategy is the best at what time.

REPORTING

Export, share and publish the results with one click.
What is strategy management?
Is your strategy flexible enough for future challenges?​ We cannot predict the future, even with the best foresight methods. However, we can help you to make your strategies so agile that you can deal with changes and react quickly.

This is particularly relevant in VUCA environments (Volatile, Uncertain, Complex and Ambiguous) in which disruptions announce themselves with signals that are difficult or impossible to detect, but which have massive and unexpected effects due to systemic networking. By thinking about possible versions of the future today, you can recognize the course of the future early on.
The foresight strategy cockpit strategy management module
Our Strategy Module combines all aspects of our approach in a web-based analysis support system. The Foresight Strategy Cockpit (FSC) allows all users to integrate and share their knowledge and evaluate strategies and decision possibilities. Strategies can be seamlessly linked with other insights. Furthermore, the module entails a range of established workshop methods, i.e. Backcasting, Visioning or Futures Workbench.
Define multiple strategies at once
In our Strategy Definition method, users can create a set of action fields – areas in which their own organization operates – each including attachments, tags and links to other entity types. Within an action field, several action options are created, to differentiate between all possible tactical measures. By combining action options of different action fields, strategies are formed in a systematic and transparent way.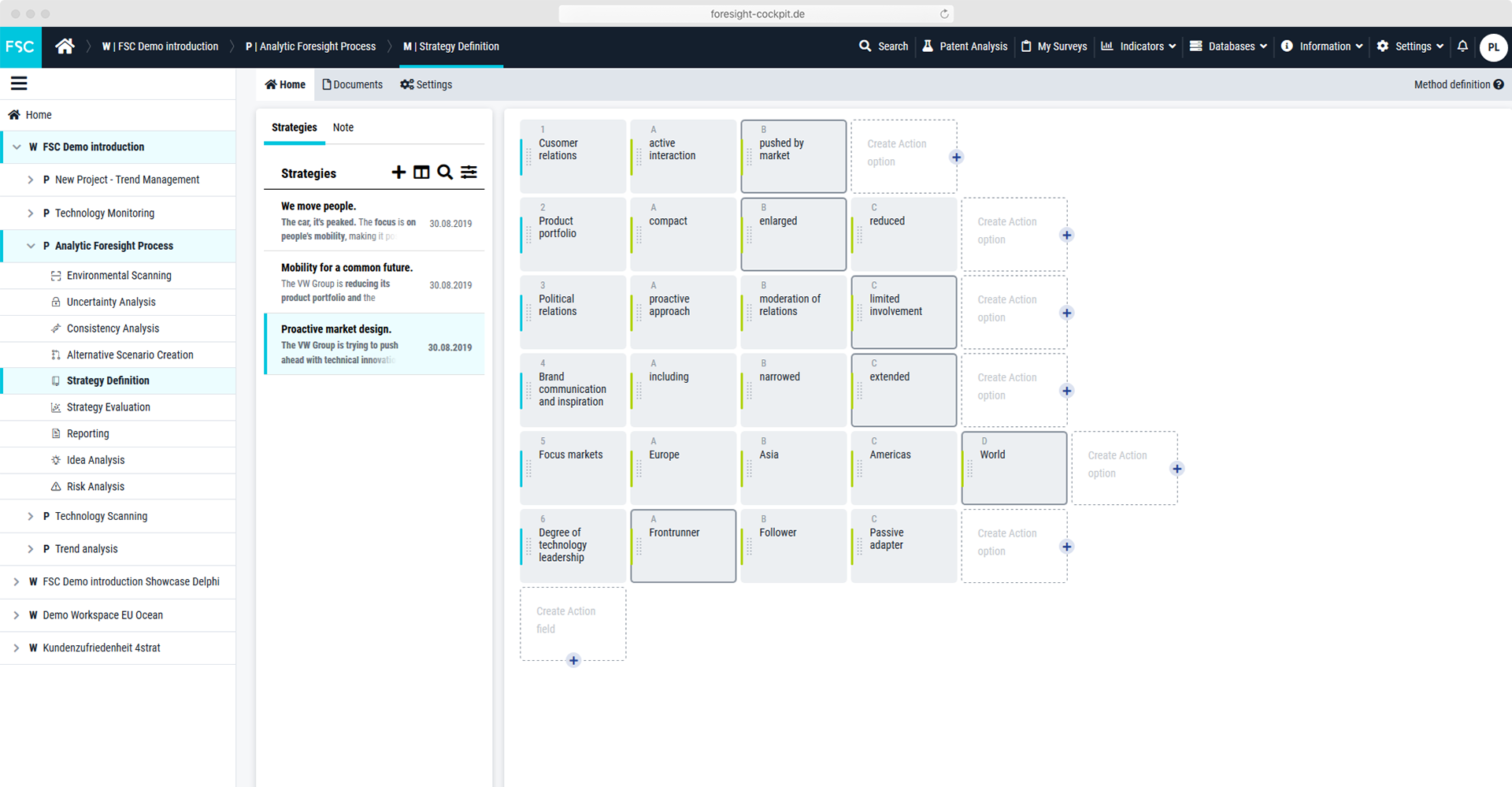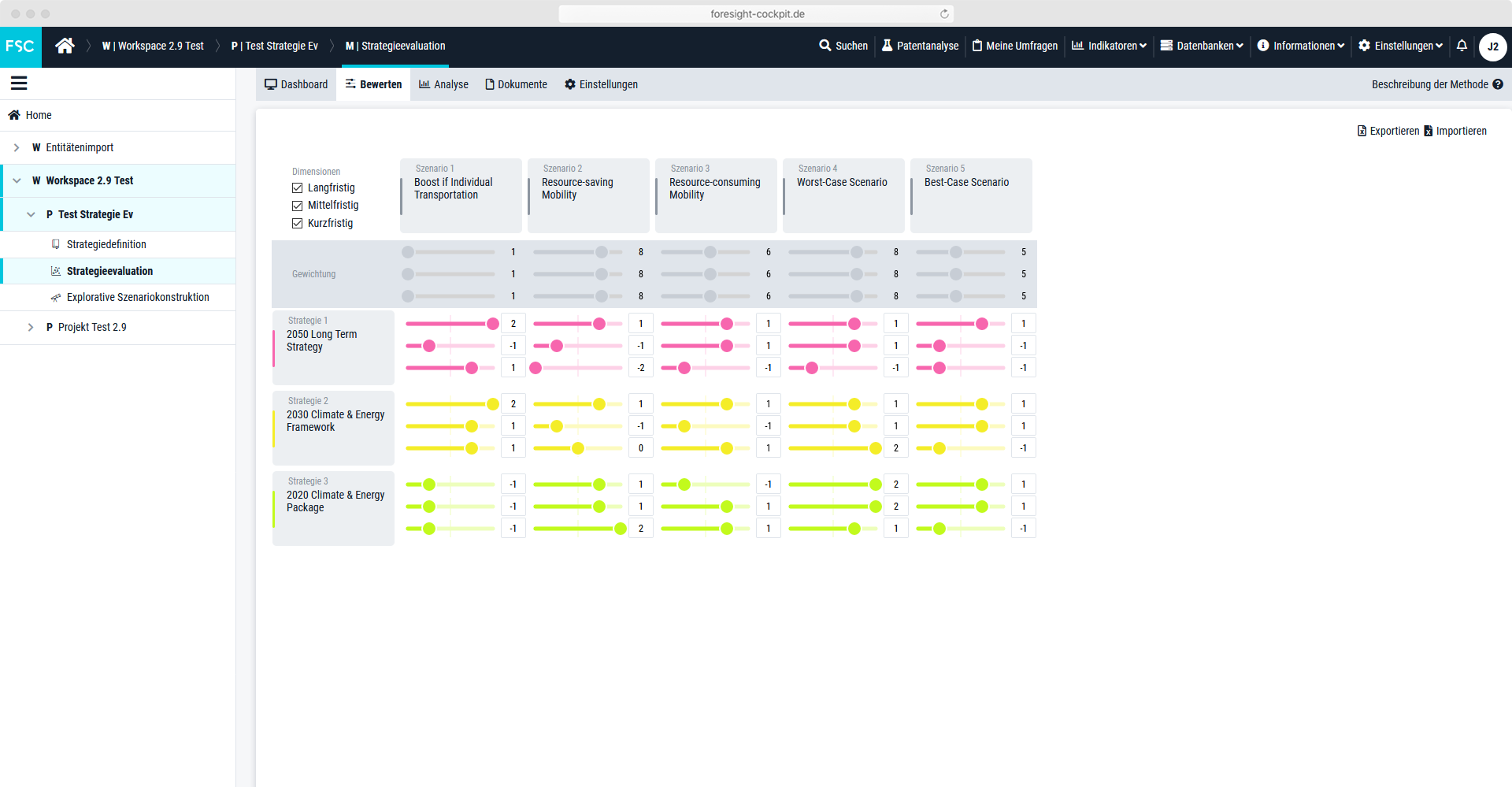 Test your strategies in different scenarios
Instead of relying on the future success of your strategy, evaluating the performance of your strategy in different possible scenarios is more promising. Let your teammates rate different strategy-scenario-combinations and finally find out the overall fragility and robustness of your strategies. Then start with the implementation of the strategies.
Further features
Strategy Definition

Strategy Evaluation

Decision Matrix

Link strategies with scenarios, trends, ideas, factors and risks

Manage, describe and edit strategies
Our values in short
Holistic Strategy Management

Recognize opportunities and risks to adapt your strategy​

Browser Add-on and App for faster integration of relevant pieces of information

Automated Reporting functions for fast communication

Fully supported and trained by our Foresight experts
Fact Sheet
All-in-one Foresight platform for unlimited users

Modular and web-based system

Combines qualitative and quantitative data

Various data visualizations

Real-time data and expert integration

Online team collaboration

State-of-the-art technology and security standards

Supports teams of futurists and scouts for future knowledge aggregation
Overview of all Methods
You can download a complete list of our methods here.
Reduce the amount of coordination and programs needed to manage trends and signals to a single software solution. Through a holistic aggregation of internal information, external expert knowledge and data-driven insights, every unit can collectively contribute to the assessment of relevant trends and their developments.
Häufige

Fragen und Antworten